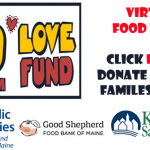 For 40 years the Love Fund has been helping Maine families in need! We've teamed up with Catholic Charities of Maine and the Good Shepherd Food-Bank of Maine to stock local food banks. With your help, we can make a difference!
Make a donation to the 'Virtual Food Bank' by clicking here.  
Prefer to mail a donation? Please send to:
BIG 104-FM Love Fund, 125 Community Dr. Suite 201, Augusta, ME 04330
Special thanks to our sponsor, Kennebec Savings Bank.