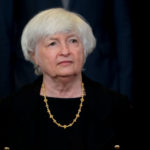 On Monday, U.S. Treasury Secretary Janet Yellen made a surprise visit to Ukraine, solidifying the United State's commitment to financial support for Kyiv in its fight against Russia, as the second year of the war begins. According to The New York Times, Yellen announced the transfer of $1.25 billion in aid to Ukraine in her meeting with Ukrainian President Volodymyr Zelensky on Monday. Zelensky shared a video of Yellen arriving to meet him on his Telegram channel.
Yellen said that the United States cannot allow Ukraine to lose the war for "economic reasons" while it is succeeding on the battlefield, adding:  "I'm in Kyiv to reaffirm our unwavering support of the Ukrainian people … Mr. Putin is counting on our global coalition's resolve to wane, which he thinks will give him the upper hand in the war. But he is wrong. As President Biden said here last week, America will stand with Ukraine for as long as it takes."
Zelensky posted: "The United States has been powerfully supporting us since the first days of this war not only with weapons, but also on the financial front. We really appreciate it. Thank you for systematic steps to increase sanctions pressure on the aggressor state. It is necessary to further strengthen sanctions to deprive Russia of the ability to finance the war."
Yellen's visit comes a week after President Joe Biden made a surprise trip to Ukraine, marking the first time in modern history that a U.S. president entered a war zone without any U.S. military presence. The Wall Street Journal stated that it is also rare for a Treasury secretary to visit a war zone.
Editorial credit: Alexandros Michailidis / Shutterstock.com