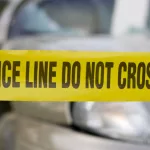 A shooting at a party in central Missouri early Sunday morning left two teenagers dead and four others wounded  Police said those who suffered fatalities were 16 and 17 years old, but their identities have not been released. The four wounded teenagers suffered non-life-threatening injuries; according to police, they were between the ages of 16 and 19.
According to the Boone County Sheriff's Office Facebook page, a large group had gathered for a party at a vacant house in Columbia, where "a verbal disturbance broke out between two opposing groups. This verbal altercation then led to shots being fired." Cops were called to the scene just before 1 a.m.
No suspects have been arrested. The sheriff's office asks that anyone with information about the shooting contact the office at 573-442-6131 or 311. Anonymous tips can be shared through Crime Stoppers at 573-875-TIPS.
Editorial credit: aceshot1/ Shutterstock.com