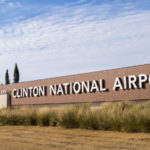 A twin-engine plane crashed near the Clinton National Airport in Little Rock, Ark., on Wednesday afternoon, killing all five people on board. The Little Rock Police Department tweeted that emergency departments were alerted to the crash at 12:02 p.m., with callers reporting a crash near the 3M plant that is in the area. Sources from the Federal Aviation Administration confirmed there were no survivors.
The sheriff's office said the plane was about a mile from the Clinton National Airport when it crashed after departing the airport. The plane was reportedly a Beech BE20 that was on its way to Columbus, Ohio.
Lt. Cody Burk, spokesman for the department, said it is unclear if weather played a role in the crash. A line of thunderstorms with wind gusts up to 46 mph swept through the heart of Arkansas at about the time of the crash.
Editorial credit: University of College / Shutterstock.com