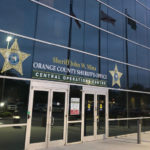 Authorities confirmed that a local TV news journalist and a 9-year-old girl were among three people killed in shootings in Orlando, Florida, on Wednesday, while two others were wounded. Authorities said the mother of the 9-year-old child who died was in critical condition and is continuing to "fight for her life."
Orange County Sheriff John Mina said in a news conference that Keith Melvin Moses, 19, has been arrested in connection with the shootings and is expected to be charged. Mina said that Moses has a lengthy criminal history that includes gun charges and charges for aggravated battery and assault with a deadly weapon, burglary and grand theft. The sheriff's office said they didn't yet know if the suspect had any connection to the news crew, or the mother and daughter.
Police say the deadly rampage began at 11 a.m. local time when deputies responded to a shooting and discovered a woman in her 20s who had been fatally shot.  Moses allegedly shot and killed a woman in her 20s (with whom he was an acquaintance) on Wednesday morning, and police were called later in the day to two additional shootings near the scene. Sheriff Mina said a 9-year-old child and her mother were shot at one home; and at another scene nearby, staffers from Spectrum News 13 were shot near their vehicle. Authorities located the reporter and photographer for Spectrum News 13 — who were on the scene to cover the homicide which had occurred Wednesday morning — shot in or near their news vehicle. One of the News 13 employees died from their injuries. Mina said it is unclear why the Spectrum News 13 crew members were targeted, or if the suspect even knew whether or not they were members of the media.
Editorial credit: Pelow Media / Shutterstock.com