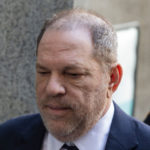 Former Hollywood producer Harvey Weinstein was sentenced to 16 years in prison Thursday for a rape conviction in Los Angeles. The 70-year-old Weinstein was convicted in the Los Angeles case in December, three years after he was convicted at a sex crimes trial in New York City. Weinstein's new sentence will run consecutive with the 23-year term given to him in his New York trial, giving him a total of 39 years behind bars in sex crimes convictions.
A jury found Weinstein guilty of three counts in the L.A. case, related to the accuser known as Jane Doe 1: 'forcible rape, forcible oral copulation and sexual penetration by foreign object.'  The jury found him not guilty of sexual battery by restraint involving a second accuser, identified as Jane Doe 2, and was unable to reach verdicts for allegations involving Jane Doe 3 and Jane Doe 4. Appearing in a wheelchair and a gray county jail uniform, Weinstein was allowed to speak during the hearing, where he proclaimed his innocence, accusing Jane Doe 1 of being an "actress" who can "turn on" her tears: "Please don't sentence me to life in prison. I don't deserve it. There are so many things wrong with this case. … This is a setup."
Los Angeles County District Attorney George Gascón has said that Weinstein faced up to 24 years in the Los Angeles case. Weinstein's legal team filed an appeal requesting a new trial, alleging that evidence was excluded about a romantic relationship between Jane Doe 1 and a witness that could have altered the jury's decision. Superior Court Judge Lisa B. Lench denied Weinstein's request for a new trial.
Weinstein was convicted in New York in 2020 of third-degree rape and first-degree criminal sexual act for crimes against two women. Weinstein pleaded not guilty at both trials and has denied all allegations of nonconsensual sex. In both trials, Weinstein waived his right to take the witness stand.
Editorial credit: lev radin / Shutterstock.com